Burna Boy Speaks About the Trending Yahoo Yahoo Topic
For few days now, one topic that has been making front pages across social media platforms in Nigeria is yahoo yahoo boys.
Nigerian singer, Burna Boy has now taken time out to speak on the issue.
The talented singer aired his personal views via his Instagram page on Thursday (April 25 2019). According to Burna Boy, our priorities as a nation has not been set right and that needs to be addressed.
He further lamented how Nigerians are getting killed every day and the politicians simply dont care.
Concerning the topic of yahoo yahoo boys which has continued to trend, he said there are more life threatening issues in the country that energy needs to be channeled into and not the topic of yahoo boys.
In his words:
Nigeria my country. Please. Let us get our priorities straight. I want my children and grandchildren to see Nigeria the way we see the western world.
We die every day in the hands of the police. We are robbed of our human rights daily, our recycled politicians don't give a fuck about us. We have real-life issues that we need to channel our energy to.
I'm begging you! Please! Let us save ourselves. I don't even like the internet because of the hopelessness for my people. We are kings and queens, originators and creators, gods of the earth! Let's stop bullshitting here please.
See his post as shared below: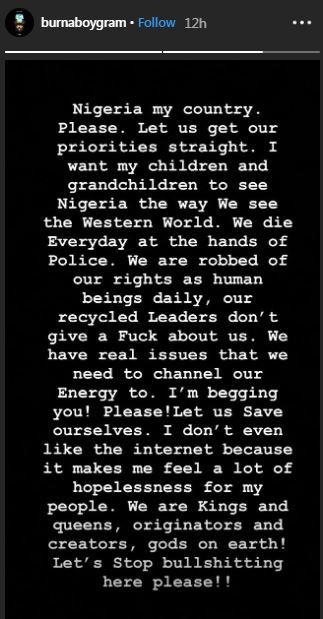 B
YOU MAY ALSO LIKE:
Pastor Reveals How He Lied to Raise Money for God's Work
Two Pants Bandits Arrested in Lagos
YabaTech Student Caught Stealing Over N500k During Her Siwes