(Photo) NigeriaDecides: Former Pres. Goodluck Ebele Jonathan refuses to say who he voted for, Gov Akinwunmi Ambode votes
– NigeriaDecides Former Nigerian President, Goodluck Ebele Jonathan has voted but he refused to say who he voted for
– Lagos State Gov. Akunwunmi Ambode has voted as well
Finally, the 2019 Nigerian Presidential Election is here and Nigerian voters have been moving out to exercise their franchise.
According to a latest report, former Nigerian Pres. Goodluck Ebele Jonathan has voted in his hometown in Bayelsa state.
The Former President was spotted alongside his wife, Patience Ebele Jonathan.
When the former Pres. was asked, who he voted for, he refused to disclosed it to the public.
Former Goodluck Jonathan left power in 2015 when he handed over peacefully to the current President, Muhammdu Buhari, in what has been recorded has one of the greatest political record in Nigeria.
According to a post shared by BBC Africa on Twitter, it read,
Former President Goodluck Ebele Jonathan 
has voted in Bayelsa state in the south-east of Nigeria. He wouldn't say who he voted for and told reporters that his comments could be interpreted as campaigning.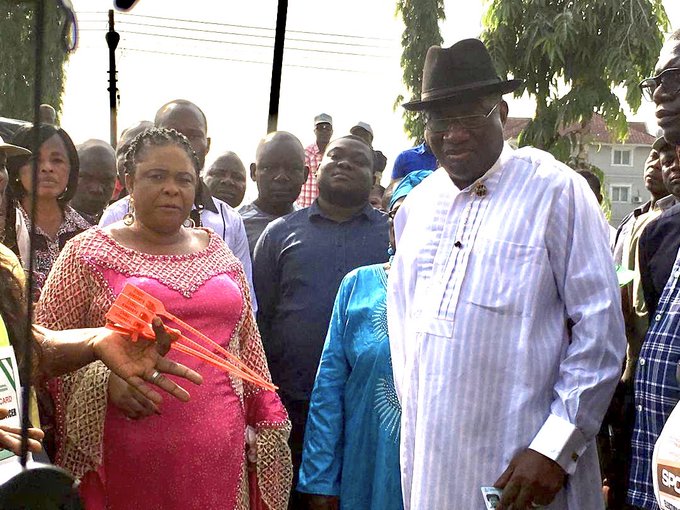 Also, a report has made it known that Gov. Akinwunmi Ambode of Lagos State has also exercised his franchise at Epe in the state.
Learn Also:2019 Presidential Election: Nigeria Police release set of phone numbers for complaint
Gov. Akinwunmi Ambode in his statement after voting urged Nigerians to remain peaceful and cooperate with election officials as they excercise their civic duties.
He said, "I just got accredited and cast my vote at Ogunmodede Junior/Senior College, Epe. I urge Lagosians and Nigerians to exercise their civic duties in a peaceful manner and cooperate with the officials to ensure a free, fair and credible election."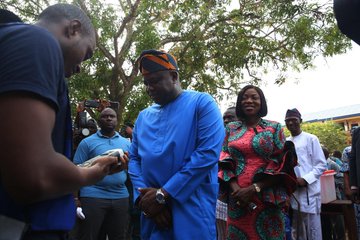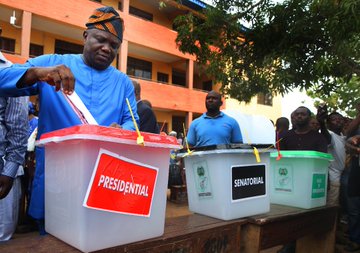 An earlier report has made it known that Pres. Muhammadu Buhari of the All Progressive Congress APC and Alh. Atiku Abubakar of the Peoples Democratic Party PDP have also voted.